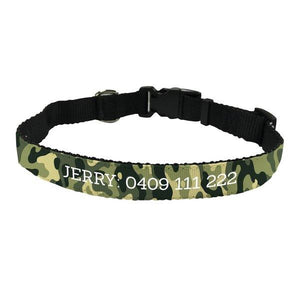 Camo Pet Collar - Medium
Don't forget gifts for your four legged loved ones! Create a personalised pet collar for your dog, cat, or other furry friend. Printed with their name and your phone number so they'll never get lost again!
• Comes in 3 sizes: Small (23-35cm), Medium (35-50cm), Large (39-61cm)
• Machine washable.
• Made from high quality black ribbed polyester with a snap fastening adjustable buckle.
Deliver to Door: Approximately 7-10 business days
Click and Collect: Collect in 7-10 business days. We will notify you when your order is ready to collect.