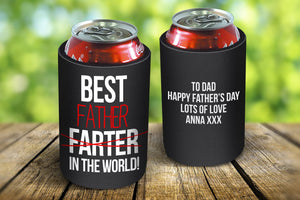 Best Father Drink Cooler
Stay cool all year round with a personalised stubby cooler for your drink! These stubby coolers are designed from an insulating material to keep your drink cool. Personalise with the name of your choice!
• Made from insulating neoprene material.
• Stubby cooler wraps around drink and seals with a thick Velcro flap.
• Product Size: Height 110mm; Flat: 240mm x110mm; Base width: 63mm
• To clean, lightly dust or vacuum with upholstery brush.
Deliver to Door: Approximately 7-10 business days
Click and Collect: Collect in 7-10 business days. We will notify you when your order is ready to collect.