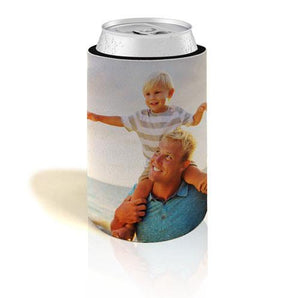 Deluxe Stubby Cooler
Create personalised photo gifts at Officeworks! Shop from a wide range of personalised products and proudly display your favourite memories around your home and workspace!
• Deluxe Stubby Cooler wraps around drink and seals with a thick Velcro flap.
• Material: Neoprene, Velcro connection.
• Layout: One Side Full Image.
• Image Dimensions: Width: 21.98cm, Height: 11.6cm - allow 0.9cm for trim.
• Product Dimensions: Cylinder Base Width: 6.3cm, Height: 10cm
• Care Instructions: Lightly dust, or Vacuum with Upholstery brush.
Deliver to Door: Approximately 7-10 business days
Click and Collect: Collect in 7-10 business days. We will notify you when your order is ready to collect.