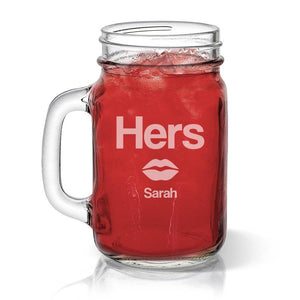 Hers Mason Jar
Personalise your own mason jar for that upmarket cafe feel in your own home! These mason jars are laser engraved with the name of your choice and come in a range of different designs. Perfect for your milkshakes, cocktails or fresh fruit juices!
• Dimensions: Height: 132mm & Capacity: 488ml
• Care instructions - Hand wash only.
• Mason jars not suitable for hot products or for home canning.
Deliver to Door: Approximately 7-10 business days
Click and Collect: Collect in 7-10 business days. We will notify you when your order is ready to collect.