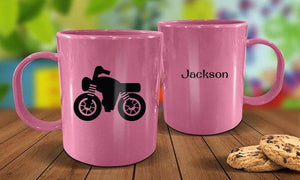 Motorbike Plastic Mug - Pink
Choose from a range of cute designs and create a personalised plastic mug for your child! They will love reading their own name on their new favourite mug!
• Available in pink or blue.
• Long lasting and drop proof.
• Each mug measures 9cm by 8cm.
• Made from melamine.
• Dishwasher safe on gentle or eco cycle
Deliver to Door: Approximately 7-10 business days
Click and Collect: Collect in 7-10 business days. We will notify you when your order is ready to collect.