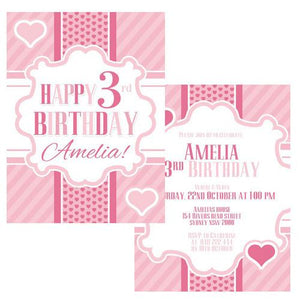 Pink Party Invitation
Celebrate your child's next birthday party in style with these customised party invitations and banners. Once you've chosen the theme for your party, it's easy to create matching invites and banners! These party invitations are also a great time saver - just fill in all the party details once and order your copies all at once!
• Banner Size - 8x36" or 20x90cm
• Invitation Size – 6x8" or 15x20cm.
• Each banner is printed on photo quality paper and has a matte finish.
• Each invitation is printed on premium quality 150gsm satin paper on both sides. Comes in a pack of 10 cards.
Deliver to Door: Approximately 7-10 business days
Click and Collect: Collect in 7-10 business days. We will notify you when your order is ready to collect.