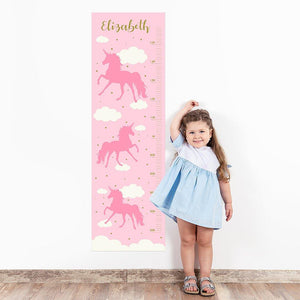 Pink Unicorn Wall Decal Height Chart
These super cute Wall Decal Height Charts are sure to brighten your child's room. Personalised with their own name, these height charts are a perfect way to record the precious memories of your child as they grow. Each chart comes with a set of labels to stick to the chart showing your child's height at different ages (1 - 9 years).
• Printed on a high quality repositionable vinyl wall-adhesive stock and comes ready to hang by simply peeling the backing from the chart and adhering it to the wall.
• The maximum measurable height is 150 cm (59 inches) and is hung so the bottom of your height chart is 50 cm (19.7 inches) above the floor.
Deliver to Door: Approximately 7-10 business days
Click and Collect: Collect in 7-10 business days. We will notify you when your order is ready to collect.