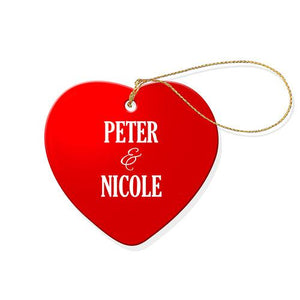 Red Heart Decoration
Create Heart Ornaments
Create the perfect decoration in the form of a personalised porcelain heart decorations!

With a range of styles to select from, these decorations will brighten up any room with their presence, and make the perfect gift this valentine's day!

The Heart Ornaments are made of porcelain. With your design and name printed on both sides of the star, it makes the perfect gift.
Deliver to Door: Approximately 7-10 business days
Click and Collect: Collect in 7-10 business days. We will notify you when your order is ready to collect.