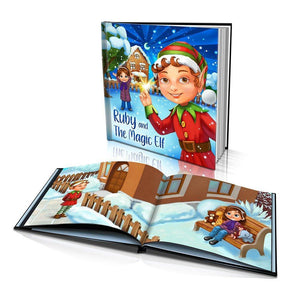 The Magic Elf Large Hard Cover Story Book
Personalised story books are a fantastic way to engage your child into reading as they are the star of the story! With so many different story lines to choose from, there's a story book to suit every child. Not only are story books personalised with your child's name, some you can even customise further with gender, parent, grandparent or friend, making a completely unique and personal story! Our story books are laminated with a gloss protective coating to prolong its life for many bedtime readings!
A story about your child meeting a magical elf who has left the North Pole to have some fun. What will Marlo the elf and your child get up to?
• Standard product dimensions: 20x20cm (8"x8")
• Large product dimensions: 25x25cm (10"x10")
• 20 Page book
• Inside pages are printed on 150gsm satin paper and covers are printed on 300gsm satin paper then laminated with a gloss protective coating.
Deliver to Door: Approximately 7-10 business days
Click and Collect: Collect in 7-10 business days. We will notify you when your order is ready to collect.