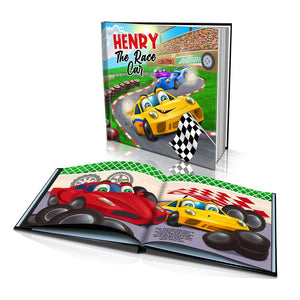 The Race Car Large Hard Cover Story Book
Personalised story books are a fantastic way to engage your child into reading as they are the star of the story! With so many different story lines to choose from, there's a story book to suit every child. Not only are story books personalised with your child's name, some you can even customise further with gender, parent, grandparent or friend, making a completely unique and personal story! Our story books are laminated with a gloss protective coating to prolong its life for many bedtime readings!
A story about your son or daughter wanting to be the biggest and fastest racing car when they grow up. Two cars race each other and whoever wins will get to join Big Earls Team, but the other car doesn't play fair. What will happen, and who will win?
• Standard product dimensions: 20x20cm (8"x8")
• Large product dimensions: 25x25cm (10"x10")
• 20 Page book
• Inside pages are printed on 150gsm satin paper and covers are printed on 300gsm satin paper then laminated with a gloss protective coating.
Deliver to Door: Approximately 7-10 business days
Click and Collect: Collect in 7-10 business days. We will notify you when your order is ready to collect.