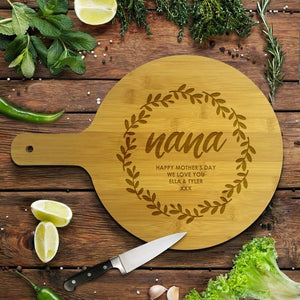 Wreath Round Bamboo Serving Board
Create a personal and beautiful piece for your kitchen with these personalised serving boards. Whether using these boards to serve individual dishes or a loaf of freshly baked bread, these quality bamboo boards are not only practical but also look great! Available in a wide range of designs, you can also use these boards for cutting and chopping. Each bamboo board is individually unique and they all have their own markings. Please note the engraving process is a burning process and as each type of wood burns differently (depending on the hardness and age of the wood), each board will have varying depths and colour of burn.
• Round Board size: 38.5cm long including handle, 28cm wide, 1cm thick.
• Rectangle Board size: 33cm long including handle, 18cm wide, 1.2cm thick.
• Long Board size: 60cm long including handle, 15cm wide, 1.1cm thick.
• Care instructions: To take good care of your personalised board it is recommended that you don't soak it for long or put it in the dishwasher - hand wash only. It is advised to oil it regularly using vegetable oil as this will prevent your board from cracking.
Deliver to Door: Approximately 7-10 business days
Click and Collect: Collect in 7-10 business days. We will notify you when your order is ready to collect.